'Designs of the Year' is the London, UK located Design Museum's exhibition of the most innovative, intriguing and original international design across the seven categories of Product, Architecture, Digital, Fashion, Furniture, Graphic and Transport design. Although global in spirit, I do sense a Euro-Western Europe slant in the list of nominees across the categories. Starting today (26th of March, 2014), voting opens as part of the social jury process in selecting the winners of round one, across the seven categories for the final exhibition. These are the nominees for Product Design for the year 2014. Take a look.
ALBA COLLECTION OF VASES – Designed by Massimiliano Adami
A collection of vases in archetypal forms enriched with a soft color change, giving the object an unusual lightness. The effect drives rotational moulding technology to reach a new aesthetic potential.
THE SEABOARD GRAND – Designed by Roland Lamb and Hong-Yeul Eom
The Seaboard is a reinvention of the piano keyboard, reimagining the keys as soft waves that enable continuous and discrete real-time, tactile control of sound through three-dimensional hand gestures. The design combines contemporary minimalism and traditional handcrafted quality.
THE BRADLEY TIMEPIECE – Designed by Hyungsoo Kim, Nick Gu, David Zacher, Amanda Sim, Maeve Jopson, Cynthia Poon
The Bradley is a tactile timepiece that allows users to not only see what time it is, but to feel what time it is. Created in collaboration with product designers, engineers, and people with vision loss, The Bradley changes the way users interact with their timepieces. It is named after Bradley Snyder who lost his vision completely in Afghanistan in 2011 serving as a bomb defuser and went on to win two gold medals and one silver in Paralympics in London in 2012.
THE ALCHEMIST'S DRESSING TABLE – Designed by Lauren Davies
A collection of analog tools for the production of natural cosmetics at home, inspired by ancient rituals and the transformative powers of alchemy. The palette of copper and maple wood are chosen for their traditional and folkloric symbolism respectively. Cork is used for its insulating properties, borosilicate glass for its heat resistance and stainless steel for strength. All components
are fabricated in collaboration with London-based craftsmen.
STRING LIGHTS – Designed by Michael Anastassiades
Inspired by perfectly parallel strings connecting pylons and the strings of lights used to mark outdoor spaces, these simple lights can be suspended in multiple configurations to create striking shapes.
SILK PAVILION – Designed by Mediated Matter Group at the MIT Media Lab
The Silk Pavilion explores the relationship between digital and biological fabrication on both product and architectural scales. The primary structure was created of 26 polygonal panels made of silk threads laid down by a CNC machine. 6,500 silkworms were then released on to the structure where they worked as biological 'printers' spinning as they moved across the panels.
RISK CENTER – Designed by Onkar Kular & Inigo Minns
Over the course of three months, the Risk Center transformed the Arkitekturmuseet, Stockholm into a risk assessment facility and educational performance space. Part film set, part educational facility and part theme park, the center recreated familiar scenes and places from the suburbs and the inner city that were then used to host a civic programme for local school groups and the general public.
PLUME MUDGUARD – Designed by Patrick Laing and Dan McMahon
Plume is a recoiling bicycle mudguard which maintains a thin, sleek profile when protecting the rider's back; when not needed it recoils into a tight circle under the saddle. Plume can be pulled out and recoiled while riding and is constructed from resilient materials.
PHONEBLOKS – Designed by Dave Hakkens
Every year millions of mobile phones are thrown away because just one part is broken. This mobile phone consists of separate components that can be 'clicked' together. Every component has its own function – WiFi, battery, display – and when an upgrade or repair is needed only that part is affected. The phone can also be customized for specific functions.
PET LAMP – Designed by Alvaro Catalan De Ocon
Hand woven from strips of discarded plastic bottles, each lamp is a durable object which combines one of the planet's most industrial products with one of the most down to earth artisanal techniques found in every culture.
NEST PROTECT: SMOKE + CARBON MONOXIDE ALARM – Designed by Nest
Nest set out to transform people's feelings about their smoke alarms from one of dislike to trust and even enjoyment. This alarm has several features: it integrates with mobile devices and sends a message if the batteries run low; it shows you its sensors and batteries are working with a green glow; its LED lights act as a night light; and false alarms can be stopped with a wave of the hand.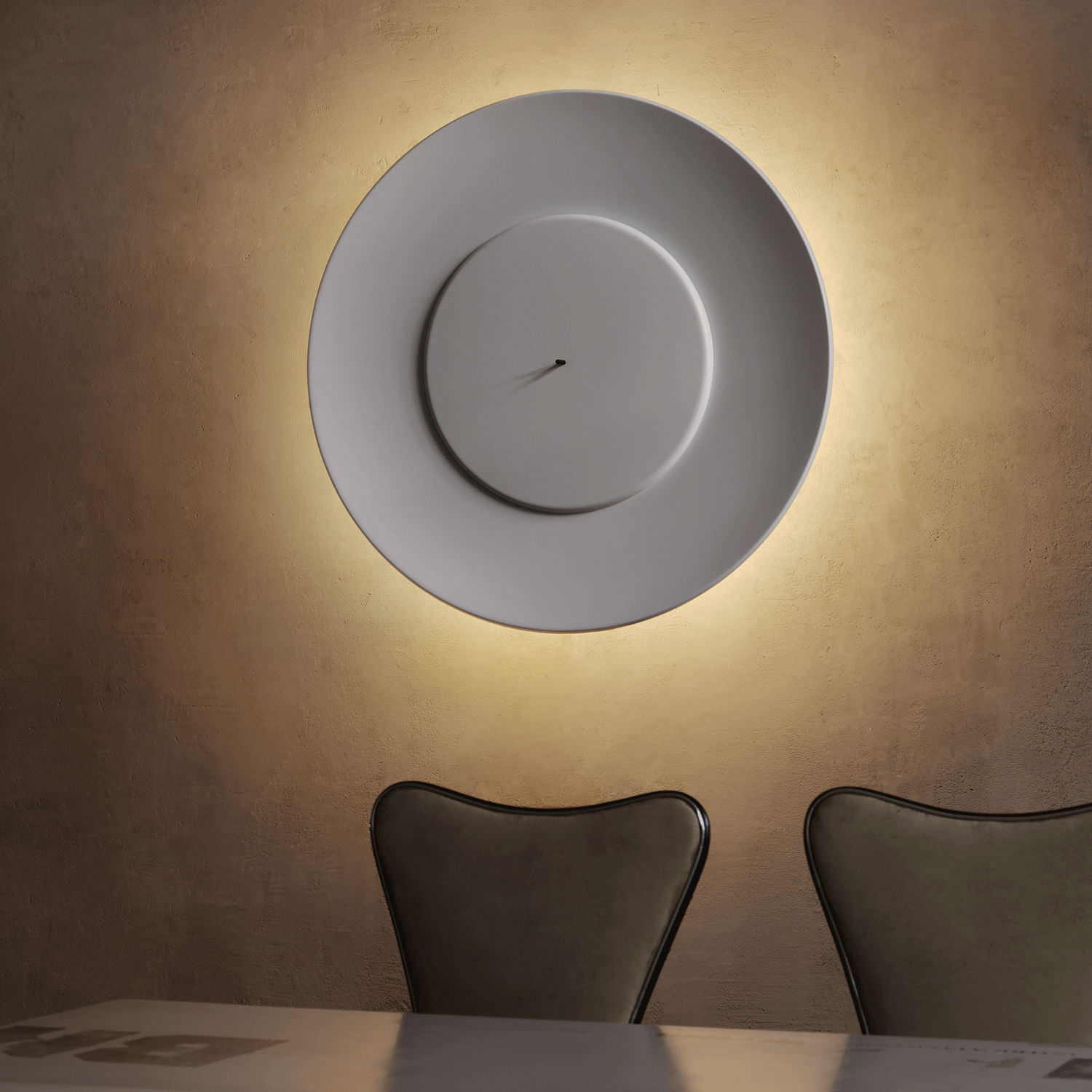 LUNAIRE – Designed by Ferréol Babin
Lunaire is a wall lamp with a surprising light effect, reminiscent of the phenomenon produced by eclipses. A smaller front disc containing the light source is set inside a large concave aluminum diffuser. Two different effects are possible depending on how the small disc is positioned with respect to the diffuser back lighting when the front disc is closed, or from inside the diffuser when the disc is pulled forward.
LUFFA LAB – Designed by Mauricio Affonso
Luffa Lab explores the inherent qualities of Luffa fibres as an alternative to synthetic materials for a wide range of applications and durable consumer products. 'Luffa cylindrica' is antimicrobial, biodegradable, lightweight and highly absorbent – features that make it a viable material for applications such as low cost splints or as acoustic insulator, it can also be used as absorber of toxic dye waste from denim processes.
GOPRO HERO 3+ BLACK – Designed by GoPro
The GoPro Hero 3+ Black makes producing professional quality video easy and affordable, allowing amateur film makers to achieve unprecedented results.
FORMLABS FORM 1 HIGH-RESOLUTION DESKTOP 3D PRINTER – Designed by Formlabs Inc.
The Form 1 is a high-resolution desktop 3D printer. It uses reversed stereolithography technology to create highly-detailed models, using a light-sensitive liquid resin and a focused laser beam. The Form 1 combines simple, intuitive design with ground-breaking technology, in a union that is at once striking and accessible.
FAIRPHONE – Designed by Bas van Abel
Fairphone is a social enterprise that uncovers complex systems with the aim of changing how things are made. The Fairphone is made as fairly as possible. Its transparent supply chain looks at every mineral, component, person and process to reveal the real impact of electronics production.
CLEVER CAPS – Designed by Claudio Patrick Vollers (Co-inventor & Designer) and Henry Suzuki (Co-inventor)
Clever Caps are bottle caps which also work as building blocks. They can be collected and used on their own, but are also compatible with the world's most popular building blocks. In this first commercial version, they were designed to fit PCO 1881 standard bottle necks, and include a tamper evident safety seal.
CHAIR 4 LIFE – Designed by Bruce Renfrew, James Williamson, Shaun Phillips, David Fawkes, Ken Poberezny, Minghao Zhou, Michael Phillips
'See the Child, Not the chair' was the motivation behind this modular wheelchair system which grows with the child and allows later modifications through a standard catalogue of attachments and bespoke components. It centres on a standard chassis which is retained throughout a child's journey, greatly reducing disruption to their lives caused by lengthy waiting times for new chair systems.
ABC SYRINGE: A BEHAVIOR CHANGING SYRINGE – Designed by Dr David Swann
The ABC Syringe is a frugal innovation to combat the prolific use of non-sterile syringes. The syringe remains colourless when stored inside a sterile pack. However exposure to air triggers a controlled color change that transforms the syringe barrel from colorless to red within a few minutes. This visual transformation alerts and empowers both literate and illiterate patients to make
better risk decisions, and provokes doctors into clinical compliance.
75 WATT – by Revital Cohen and Tuur Van Balen
In 75 Watt, a product is designed especially to be made in China. The object's only function is to choreograph a dance performed by the laborers manufacturing it. The project seeks to explore the nature of mass-manufacturing products on various scales; from the geo-political context of hyper-fragmented labor to the bio-political condition of the human body on the assembly line.