I have long admired American painter Edward Hopper's poignant interpretations of twentieth century urban resignation, longing and alienation. So, it was with a bit of a pleasure that I discovered the 'Hopper Meditations' photographic art project by a graduate of the University of Michigan school of art, graphic designer and photo-artist Richard Tuschman. Separated by time but not in spirit, Tuschman's project is not only a tribute to the poetic perceptiveness of Hopper, but also, to my mind, brings interesting material to the co-relations and tensions between traditional painting and contemporary digitally enhanced visual art. Like the perennial debate of the relationship between word and image, the relationship between the painting and the photograph is hinged on the tensions of the ideas of contradiction, irony, mimicry, and 'what is complementary?'. Tuschman frames after Hopper, and draws the spectator in to a proximity of a hint of palpability of the psychological states of the subject/s. Space, and its' quietude (true to Hopper) accentuates that psychological state. Take a look.
Edward Hopper 'Hotel Room', 1931.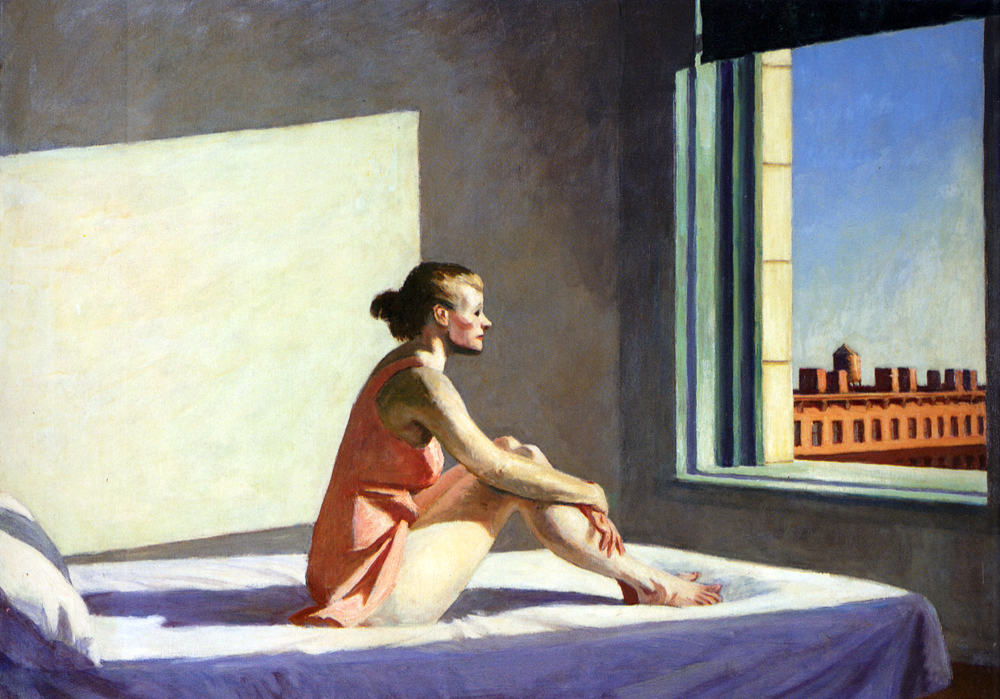 Edward Hopper 'Morning Sun', 1952.
Edward Hopper 'Room in New York', 1932.
Edward Hopper 'Hotel By A Railroad', 1952.
From Richard Tuschman's 'Hopper Meditations'. 2013
From Richard Tuschman's 'Hopper Meditations'. 2013
From Richard Tuschman's 'Hopper Meditations'. 2013
From Richard Tuschman's 'Hopper Meditations'. 2013
From Richard Tuschman's 'Hopper Meditations'. 2013
From Richard Tuschman's 'Hopper Meditations'. 2013
From Richard Tuschman's 'Hopper Meditations'. 2013
From Richard Tuschman's 'Hopper Meditations'. 2013
From Richard Tuschman's 'Hopper Meditations'. 2013